Indiba Therapy
INDIBA ACTIV Therapy is based on patented and safe technology, which when used together with manual therapy gives a triple effect during the rehabilitation of tissue: an increase in the speed of the healing process, and a fibrinolytic and anesthetic action. These effects are noticeable both with acute symptoms and chronic diseases.
CELLULAR BIOSTIMULATION: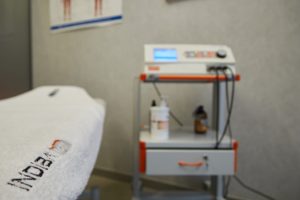 The high frequency energy produced modifies the permeability of cell membranes, even with non- thermal application. It promotes intracellular and extracellular ion exchange and ensures proper regeneration of tissue. It both accelerates metabolism, and cellular oxygen demand.
VASCULARIZATION:
Increased microcirculation supplements bio-stimulation and equips tissue with the elements it needs to recover. Dilation of blood vessels nourishes and provides oxygen to the tissue, improving venous and lymphatic reabsorption.
HYPERACTIVATION:
Hyperactivation significantly improves cellular metabolism and starts the process of rebuilding within the tissue in order to fight against fibrosis. The tissue is restructured even in chronic cases in which fibrosis has been present for some time, for instance as a side effect of injury or osteoarthritis.