Rehabilitation specialists
A medical rehabilitation specialist helps people with various disorders, dysfunctions and lesions, such as diseases of the nervous system, amputation of limbs, injuries, cardiovascular diseases or changes related to immobilization. Rehabilitation treatment is always arranged individually. If you suffer from such ailments as rheumatism, muscular dystrophy, respiratory or cardiovascular disorders, cancer or osteoporosis, then we encourage you to take advantage of the services of our Rehabilitation Centre.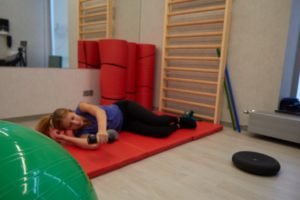 From the very beginning we have offered our patients professional and effective rehabilitation, led by an experienced and qualified rehabilitation specialist. Our therapists are highly educated, possessing the appropriate qualifications and certifications to undertake their work. We care about every patient who comes to us, and the methods and techniques of rehabilitation are always are selected individually after an earlier diagnosis and interview. As a part of the rehabilitation process we offer a variety of treatments, including light therapy, massage, hydrotherapy, physiotherapy, music therapy and art therapy.
An experienced and competent rehabilitation specialist will help you to achieve a partial or even complete physical or mental recovery, which is why we encourage you to take advantage of the services we offer. The Elizabeth Gawłowska Rehabilitation Centre has from the beginning been located in central Wrocław. Call us today.