The McKenzie Method
Painful back conditions have become a serious problem worldwide, with many people, including both young and old, struggling with such conditions. The inhabitants of Wrocław are no exception. One of the most effective ways to combat back pain is the McKenzie method of manual therapy, which has the reduction of relapses in the patient as its main goal. Our rehabilitation centre specializes in professional treatment utilizing the McKenzie method and we encourage you to take advantage of our services.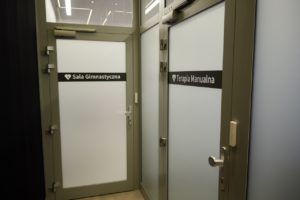 During your first visit, our physiotherapists will conduct a thorough interview with you and then perform functional testing. In this way we will be able to obtain the information required for further treatment. The McKenzie method has many advantages, including a precise diagnosis, safety, low cost of treatment, a reduction in recurrence of up to 30 percent, and the avoidance of drug therapy.
The McKenzie method manual therapy we offer (Wroclaw, ul. Piłsudskiego 84a), is carried out by experienced and certified therapists, so you can use our services with confidence. We can guarantee that the McKenzie method will bring the desired results, regardless of the type of back pain you suffer from (sciatica, nerve root pain, degeneration of the spine, etc.).
New Zealand physiotherapist Robin McKenzie developed his method in the 1960s, discovering that performing certain specific movements can bring the patient marked relief, and that applying them systematically can treat the cause of back pain. Preventative care can also stop pain from recurring. The McKenzie manual therapy offered by our center means that Wrocław can be regarded as an important centre applying this method within Poland.
If you are interested in professional and effective treatment, we invite you to make an appointment at our rehabilitation centre located in central Wroclaw. Manual therapy will rapidly bring you the results you expect. We encourage you to contact us – we will assist you in getting rid of pain, and regaining fitness and well-being.