Treatment of the Spine
Illnesses and injuries of the spine can now be considered one of the more frequent and serious lifestyle diseases, affecting a large percentage of the population. Many years of hard work take their painful toll on older persons, however young people are also increasingly likely to suffer from afflictions of the spine. Our Rehabilitation Center offers professional, specialist treatment and rehabilitation of the spine. We possess the highest quality equipment as well as experienced therapists, who offer comprehensive spinal rehabilitation and treatment.
We only use proven, specialized rehabilitation methods, which are selected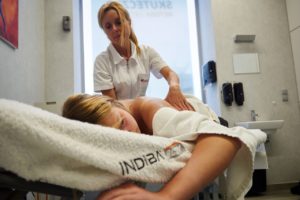 individually according to the needs, condition and capabilities of each patient. We provide you not only with excellent medical care, but also with a sense of well-being and a pleasant atmosphere during treatment.
Wroclaw has long been a recognized centre for the treatment of the spine. Rehabilitation conducted at our clinic is guaranteed to mitigate pain of various origins, improve the stability of the spine and prevent changes in the musculoskeletal system. We also offer post-traumatic, pre-operative, and  post-operative rehabilitation, as well as the rehabilitation and treatment of fractures.
Many satisfied patients have already benefited from the services of our Rehabilitation Centre (located in central Wrocław). We are confident that the spine rehabilitation carried out by our specialists will help you to quickly return to health.